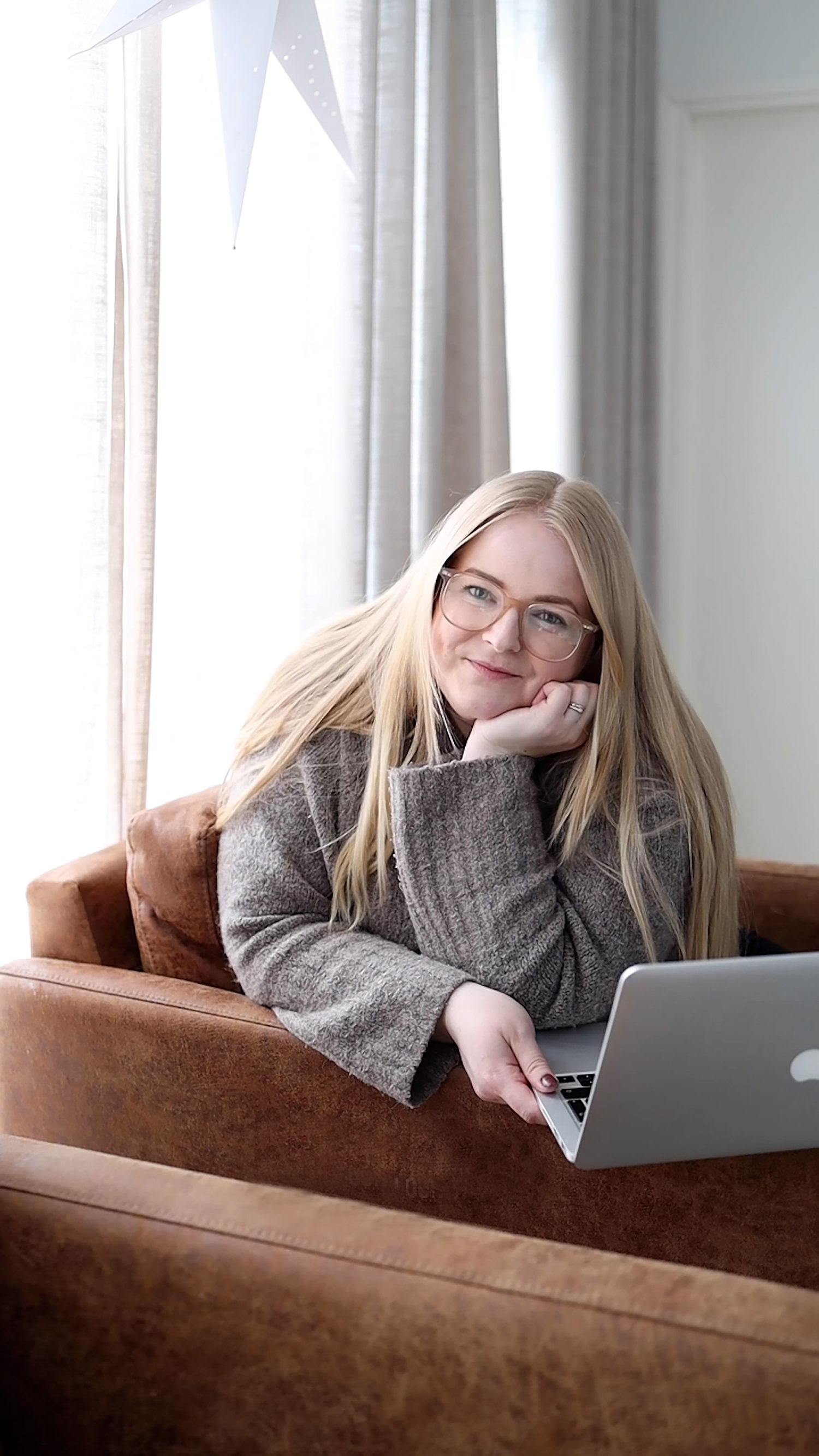 One minute you're stuck in an endless hole of "Earth Tone Minimalist Interior" on Pinterest...and then you finally get to add "Baby Room" to the search.
This is where I trudge in – with fabric and rustling plastic at its best!
My name is Sandra, and I'm the craft teacher turned online entrepreneur to help you make your "Baby DIY" Pinterest board a reality.
Wow, you're *finally* going to be a mom!
And at the same rate as the advertising in your Instagram feed becomes more and more baby-related, your to-DIY list is also filled with lots of cuddly baby projects.
Baby nests, swaddle blankets and baby clothes suddenly feel like the only thing to DIY, and the other day you found yourself scrolling to the *sort of* bottom of the "Cute Earth Tone Woodland Nursery" feed on Pinterest. 🤭
And you know - I think that's exactly what you should be doing right now! <3
Daydream. Long. Prepare. Boa. Anything that makes it tingle a little extra in the stomach.

Because of course there is something very special about waiting and yearning with all your heart for something you can't quite put your finger on.

Waiting and longing for someone you've never met but already love so much it hurts. 💛

For me, a very big part of the preparation process for motherhood was getting to do things for my little baby in the womb.

To be able to do things for the baby you long for makes everything so much more real.

I mean; wow - imagine that you will soon be able to run your finger along the cheek of a sleeping baby in a baby nest you have sewn all by yourself.

And imagine that soon you will be able to cuddle with a newly bathed baby in a towel you sewed all by yourself.

And think that there will soon be a little knot under the baby gym that looks fascinated at the dangling toys that you sewed 👏🏼 completely 👏🏼 YOURSELF . 👏🏼

Because of course there is something about self-sewn baby things that just "hits different" - isn't it?
…and now I'm passionate about showing other mamas (just like you) how to do it!
Have you already filled the baby's wardrobe with knitted garments and somewhere in the back of your mind thought that you might take and sew a baby nest too?
But just saying the word "sewing" makes you flashback to high school (because that's when you last touched a sewing machine) and the feeling of "that probably won't turn out so well" creeps in...
You know, I get it! Just a few years ago I was walking around thinking that knitting and crocheting were what I was good at and that sewing machines weren't my thing.
My course mates from "basic course in textile craft - compulsory course for student teachers" can attest that I had panic in my eyes when our teacher suddenly presented a sewing task instead of a knitting or crocheting task. (quite honestly, I would rather have knitted a 30 meter long scarf in stockinette than sewn anything!)
Because, as I said, sewing wasn't my thing, and this poor little task would be the thing that lowered my wit from bad to "just good"... (but we'll deal with that about school performance anxiety another time 🙈)
But do you know what happened once I had to sit down at the sewing machine and just get started?
What I sewed then looked nothing like the shock pink hoodie with slanted seams and white cuffs I sewed in junior high school!
Do you know why?
I swallowed my pride, dared to ask for help, and just started.
(And besides, I wasn't 13 anymore, so I had a little better grasp of things like color combinations and that a fabric that doesn't feel good when you hold it in your hand won't feel good to wear either...hehe)
"You don't have to be good to start, but you have to start to be good!"